Stila, 
a history of values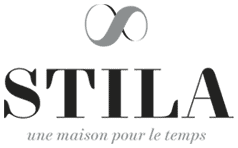 The history of Stila finds its roots in the industrial cradle that is La Chaux-de-Fonds, and the city owes its fame from fine watchmaking and microtechnology. Qualified of manufactory-city, it has been registered as a UNESCO world heritage site in 2009 for its particular watchmaking urbanism.
In this multifaceted "Little America", where residents and watchmaking-workshops are juxtaposed, Stila soaks up every day this manufacturing soul. Our history cannot be told in terms of dates, but in prints, left by this magnificent municipality and which forged our values.
In order to come up with a name for the company they were about to create over 80 years ago, the founders assembled Style and Art in a crucible: Here was Stila, a house at the service of innovation.
Creativity is the energy that urges us to always go further in the elaboration and manufacturing of inimitable watch-cases.
The mastering of the metals and treating them with respect is what enables to achieve the smoothest curves and the most elegant shapes. Every day, Stila continues its advance in the heart of materials.
At Stila, everyone participates in shaping and processing of unique pieces to reveal their soul. We have signed a contract with the materials.
Be it for a unique piece or a series of several thousands of cases, our craft combined with modern technologies allow us to achieve the most audacious projects.
At Stila, craftsmen and technicians are at the centre of the company. They manufacture, pierce, weld, polish, file and assemble the different elements for a perfect harmony. Precision and attention to detail are our guarantee of quality.
Stila is a family business that has seen three generations. We are respectful of our predecessors, of the talent and the values they associated to our history. Today, Stila is a forward-looking company. Our products represent this unconditional equilibrium between classicism and modernity.
Our watch-cases all contain a trace of this strong identity and of this tradition, which garantee, in turn, an incomparable lifetime expectancy.
ALL THE CLASS IN DISCRETION
Our passion for the regularity of time, the sleek lines, the precision of shapes, and the materials, is what unites us since our creation to the universe of watchmakers.
We understand the codes of watch brands and supply pieces of an irreproachable finish and even more. We know how to underline the class of a timepiece with discretion.